Journey To Mt. Fuji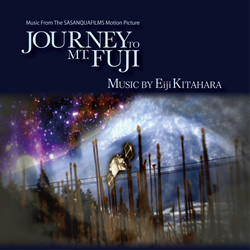 Download/Album price:¥1,697(tax in)
Download/Song unit price:¥205(tax in)
CD price:¥1,800(tax in)

01. A Journey Begins

02. Waltz of Eclipse

03. The Chase
04. Take My Hand

05. Walking Forward
06. Encounter
07. Fantasy
08. Despair, and Hope
09. Mission : Walking Forward
10. The Journey Ends

All tracks composed by Eiji KITAHARA
Art Film "Journey To Mt.Fuji"
Produced by Japanese,French and American Staff
Director:Cris Ubermann
Producer:Yukita Kusunoki
Music:Eiji KITAHARA



The score won two awards in the USA.
★Gold Award of"International Independent Film Awards (2014, Fall)"
★Silver Medal of the "Global Music Awards (September 2014)"
About album"Journey To Mt. Fuji"


 All 10 songs were composed by Eiji Kitahara as the soundtrack of the Japan - France - US joint art film "Journey To Mt. Fuji" (directed by Yukita Kusunoki with cinematography by Cris Ubermann). It is now available as an independent recording. 
 French modern music and a beautiful melody wrapped in modal jazz style surrounds each scene of this fantastic and emotional movie including various video experiments. This soundtrack was designed not to be mere background music. This soundtrack has its own high musicality making it worth listening to as independent pure music. 
 This impressive score won two awards in the USA! 

Cris Ubermann (Cinematographer And Film Director) said as follows.
 "Half of the movie is made through the video and half through the music."
 When I met Eiji Kitahara, we immediately realized that our collaboration would complete this movie. 
 There are specifically musical scenes, including "Waltz of Eclipse" and "Take My Hand" in the movie.  These thoughtfully crafted collaborative scenes became highlights of the movie, realizing the silent protagonist's lively personality.  In this movie, producer Yukita Kusunoki and I wanted to demonstrate a strong expressive style based on beautiful music composed by Eiji Kitahara. 
 Jazz on Film. Movie of Jazz. Merging these art forms creates "Mozz", the underlying concept for the direction and cinematography of this lyrical film. Even the hero's name, "Mozzman" derived from this concept.  As a jazz expert, Eiji Kitahara was the best composer to accept difficult tasks.

Claire Youmans (Fine Art And Creative Consultant) said as follows.
 When I listened to the music of Eiji Kitahara for the first time in the opening scene of "Journey To Mt. Fuji" my heart flew up. It was perfect. The opening song, "A Journey Begins" sets the atmosphere of the movie and enhances its spirit, while realizing and supporting the talented visual artists' concept.  I was convinced through his music that this project would echo in the heart and soul of international audiences.